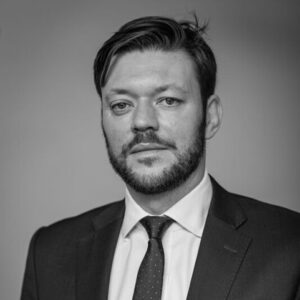 Edward joined UK Government Investments in 2015, and has worked on both corporate finance and corporate governance projects. Most recently, Ed led the joint MOD/UKGI team that successfully brought the Atomic Weapons Establishment back into government ownership.
Prior to joining UKGI, Edward worked as a lawyer. He trained with the Scottish Government before moving into private practice first in Scotland and then the City, specializing in project and asset finance. Edward combined work and study to complete a Masters in global energy and climate policy, and further augmented his sectoral experience with secondments to Network Rail, ING and UK Export Finance.
Edward has completed a two year secondment with the Cabinet Office, where he first led on business, energy and environmental policy coordination in the Economic and Domestic Affairs Secretariat, working closely with HMT and No.10. Edward then led a team in DExEU preparing for the UK's exit from the EU, before being asked to help establish and lead a team within the COVID Taskforce.