Women in Finance Charter
UKGI is a signatory to the Women in Finance Charter, a commitment by HM Treasury and signatory businesses and organisations to work together to build a more balanced and fair industry. Signatories to the Charter pledge to be the best businesses in the sector and publicly commit to improving their gender diversity.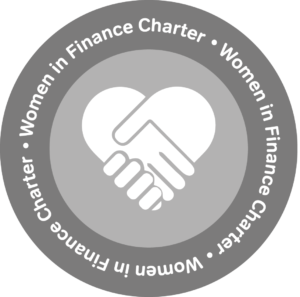 When UKGI signed up to the Women in Finance Charter in 2018 we had 30% female representation at senior management level and a target of reaching 40% by 2021. This target was reached in March 2021 with 41% of the senior management cadre categorised as female.
We continue to remain fully focused on gender diversity and are actively undertaking a number of initiatives to support us in maintaining this target:
Supporting development and promotion
All staff receive three targeted development opportunities each year and we provide females at the level below senior management with personalised coaching programmes to support them to apply for and gain a promotion.
Maximising flexible working
We actively promote flexible working (remote working, reduced hours, varying work schedules) to encourage more women to apply and stay.
Recruitment
We are continuously exploring new recruitment avenues to target a more diverse workforce.
For more information about the Women in Finance Charter click here
Race at Work Charter
UKGI is a signatory to the Race at Work Charter from Business in the Community, an organisation created by HRH The Prince of Wales to champion responsible business. The charter provides five calls to action to ensure that ethnic minority employees are represented at all levels in an organisation. 
UKGI became a signatory in 2019 to amplify its commitment to improving equality of opportunity in the workplace and continues to work towards its calls to action.  
The organisation's target by 2022 is for 10% of the senior management cadre to be from BAME backgrounds.
For more information about the Race at Work Charter click here  
Women in Banking and Finance member
Established in 1980, Women in Banking and Finance (WIBF), is a not-for-profit women's network run by members, for members. It is dedicated to increasing opportunity for individual members to network, learn and advise each other at every stage of their career – from graduate to boardroom – through WIBF's programme of workshops and events. WIBF aims to improve diversity in banking and finance as a sector by working closely with its corporate members, which include Barclays, Santander and Citi. WIBF is a UK-wide network with branches in London, Edinburgh, Glasgow, Manchester, Bristol, and Birmingham.
For more information about Women in Banking & Finance click here